by Faith DeAmbrose
Originally published in The Weekly Packet, March 22, 2018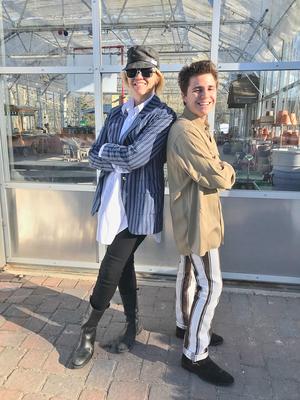 It's high fashion in Blue Hill as local residents Julie Jo Fehrle and Maxfield Y Rhine transform the Mainescape glass greenhouse into a fundraiser that turns clothing from the TurnStlye into food for the Tree of Life food pantry.
Much like its mission, the Tree of Life food pantry in Blue Hill uses proceeds from its sale of used clothing to help purchase food. Fehrle and Rhine, a student at the Harbor School, are taking this concept one step further to produce a fashion show that will highlight items that were either purchased from the TurnStyle or are about to be donated.
The March 29 event will showcase approximately 30 volunteer models ranging from age 5 to 85, said Fehrle, who said she has wanted to do an event like this for some time, but it wasn't until she was approached by Rhine hoping to plan an event, that it begin to take shape.
Fehrle said the event has grown to include students from area schools as well as members of the community who have had after-hour access to the TurnStyle to choose and purchase their runway outfits.
The event serves as part "cabin fever reliever," said Fehrle, but it is also meant to raise awareness about all that Tree of Life does in the community. "We also wanted to take away any stigma associated" with shopping at a second-hand store such as TurnStyle. "It was great for the students to see how much fun and how far their money goes" at the store.